Add the transition videos for a constant stream of French music during class.
https://www.teacherspayteachers.com/Product/108-Spanish-Class-Birthday-Cumpleanos-Tradition-Celebration-3979177
For the new expanded birthday experience, click here
There are 21 French Videos available at Moving All French Materials to Minute by Minute French store.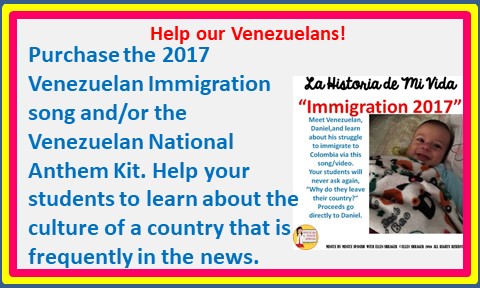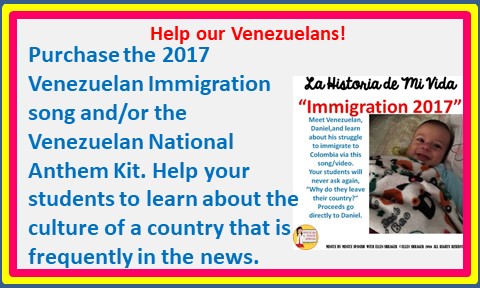 Go to blog to see video trims of all 21 songs
Everything is scripted for you to teach Spanish 1 Survival Vocabulary and Classroom Items   in the target language with maximum student engagement — minute by minute for seven days!
Today's bundle purchases includes 7 PowerPoints with a combined total of over 500 slides that you will use from when the students enter your class until you dismiss them. You will have complete visual support for everything you say eliminating transitions, improving classroom management and the amount of Spanish used in class. The 19 handouts and links will provide you will everything you need, making lesson planning a snap!
Today's bundles are listed individually on their product pages:
♥Day 9 Survival Vocabulary
♥ Day 10 Survival Expressions
♥ Day 13 Classroom Items and Colors
♥Day 14 Classroom Items and Colors
♥ Day 15 Classroom Items Assessment
♥
For more information on converting your class to a vci (visual comprehensible input) class, read the book: World Language Daily Tech Guide
IF you would like to see a video summary of days 2 – 8:
Video Pre-View of DTG Day 2 – 8 Spanish 1 with 2016 updates
Scroll past Day 1, and you will see videos for days 2 – 8. They have a watermark, but if you have purchased the bundle, email me your TpT name and I will send you the videos without the watermark and the updated PPTs via Wetransfer. The bundle is too large for here. I will mail them in the evening and on weekends as I teach full time during the day.
Customer Tips:
How to get TPT credit to use on future purchases:
• Please go to your My Purchases page (you may need to login). Beside each purchase you'll see a Provide Feedback button. Simply click it and you will be taken to a page where you can give a quick rating and leave a short comment for the product. Each time you give feedback, TPT gives you feedback credits that you use to lower the cost of your future purchases. I value your feedback greatly and thank you for taking the time to leave it.

If you have a question or a correction, please first mention it in the question and answer section so that I can fix it and re-send it to you. You can also contact me at minutebyminutespanish@gmail.com
Be the first to know about my new discounts, freebies and product launches:
• Look for the green star next to my store logo and click it to become a follower. Voila! You will now receive email updates about this store.
.
♥ ♥
For further support for using this lesson, visit my Minute by Minute Spanish blog:
Daily Lesson Reflection
Spanish
♥ ♥
.
Finally, thank you for being that kind of teacher who goes the extra mile for today's students. We need you now more than ever.
♥ ♥ ♥ ♥