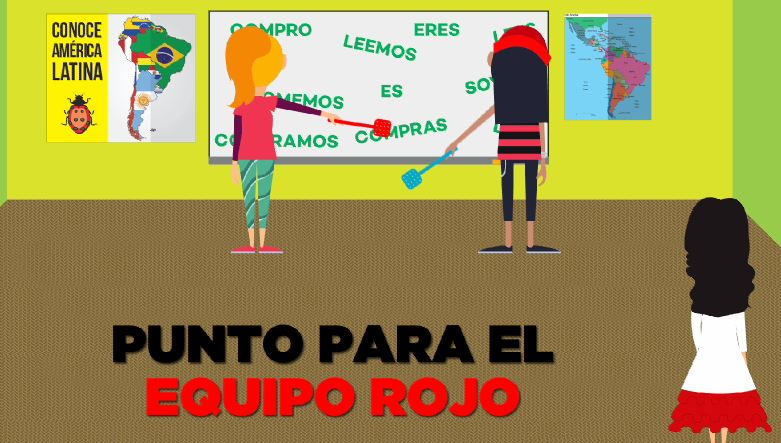 Compelling Visual and Audio Comprehensible Input (CI) that sticks in students' brains and pops out spontaneously! Stay in the target language and improve classroom behavior! Perfect for Flyswatter Game!
These videos are created to help some talented but desperate Venezuelans.  Click here to read their story.
Support them by purchasing it here and watch how using transition videos transforms your room!
Soon your students will be singing "Vamos a jugar" and perking up whenever they hear the opening notes.
Transition into playing this game by using this video to teach them the vocabulary of keeping track of points and to stay in the target language !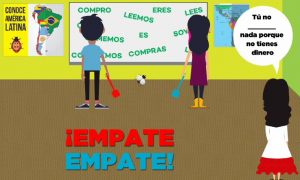 Use these three steps to take charge of your transitions.
1. Make a slide for each activity in today's lesson.
2. Insert one of my brief 50+ transition videos before the slide and train your students to watch the video in Spanish. Soon they are imitating the voice over or else singing the song. Do this every day and when you are observed by your administrators they will note your seamless transitions.
3. Buy a remote presentation device or wireless mouse and click to the next slide from any part of the room so you can stand close to students who struggle to behave.
For a visual of a typical class, click here.
♥ ♥ ♥ This video is 50 seconds long and is intended to announce to the students to prepare for the Flyswatter or Matamoscas game.
♥ ♥ ♥ It is sung by a native speaker who works as a professional musician.
♥ ♥ ♥ Play and students will soon be imitating the words in beautiful Spanish.

: