What if you have a substitute to start the year who doesn't really speak French?
You could combined the transition videos with the lessons.  If someone could go over the pronunciation of the slides coupled with the lessons, the students would be hearing quite a bit of French.
Download the first day to see if you like it.
Download the first month's lessons with the videos here.
You would have to insert the videos into the lessons – I can send them to you via PowerPoint or GoogleSheets to make it easier for you but can not include them in the download as the file would be to large – just email me to work it out.
Something is afoot in my language classroom this year. 
For the first time in 30 years, students walk in sighing with relief that they are in room 363 because it is so "chill" in here.
Every fifty-minute period we go through about 8 activities on 100 slides with no gaps or down time.   One new student mistakenly thought he had stumbled into an Honors class because of all we do.
We aim for 90% target language from day one –  past students confided their first month was stressful. Current students express their relief and joy at being in my class.  Joy!
There are over 20 million entries in Google for "Fun  Class Activities" but there are  few entries in Google for "Joy in the French Class."
Fun activities are the preterit tense with defined beginnings and endings.
Joy is the flowing imperfect tense with no defined ending.
Fun is external. Joy is internal
One fun activity for the past 20 years has been our "Song of the Week."  Students love the five minutes of the class devoted to wonderful songs.  This year is different. To keep students in the target language and on task, I developed transition videos.  The unintended consequence is that they make students feel joyful!
Six to ten brief 30 to 60 second transition videos are sprinkled through out the 50 minute class period releasing a steady stream of endorphins as students sing along and imitate the announcer's voice.
According to http://www.emedexpert.com/tips/music.shtml music is powerful.
Music enhances intelligence, learning, and IQ. 
Music fights fatigue.
Music calms and  relaxes.
Music improves memory performance.
Music reduces stress and aids relaxation.
Music improves mood and decreases depression.
Music is a great anti-anxiety remedy.
Transition videos are the glue in between fun  class activities that create joy.  Other teachers using them report the same experience – one confided it was the first time she overheard students in the hall gushing about her class and the only difference is the transition videos.
As my students walk in each day they hear "the day song" and soon they are using the words to express their feelings, for example, "Mon jour favori!"
MBMF_1 Monday Pls no posting – trimmed from ellen shrager on Vimeo.
MBMF_2 tuesday mardi from ellen shrager on Vimeo.
MBMF_3 Wednesday from ellen shrager on Vimeo.
MBMF_4 Thursday from ellen shrager on Vimeo.
MBMF_5 Friday from ellen shrager on Vimeo.
1.  When I am ready to start, I play the class count down video – students know to be seated and quiet as they count down the 3 -2 – 1 pret!
MBMF_6 commencer from ellen shrager on Vimeo.
2. After our greetings, we go over the objective of today's class and our activities and sing about the date. When writing the date on an assessment you will hear them ask, "Quelle est la date d'aujourd'hui"

MBMF_7 Date from ellen shrager on Vimeo.
3. Check for questions and play the musical slide to take attendance – we get nasty emails if we miss attendance for any class!  Soon students will be telling you  "X est absent."
MBMF_8_3 Attendance from ellen shrager on Vimeo.
4. Check for homework and signal that they need to take it out by playing this song. Soon you will be hearing students spontaneously say "Je les ai" and "Vraiment?"
MBMF_9 Sortez from ellen shrager on Vimeo.
5.  Play "The Daily Review"song and complete five minutes of review.  French 1 students will fluently say "Révision"
MBMF_10 Révision from ellen shrager on Vimeo.
6. As part of my daily review we look at an interesting picture and generate questions about it.  But first we listen to the question song – a great way to help students internalize those abstract words.
MBMF_11 Question from ellen shrager on Vimeo.
7.   We move on to new vocabulary and play "Take Out the Vocab List video and they can all mimic "Veuillez sortir la liste de vocabulaire."

MBMF_17 Vocab from ellen shrager on Vimeo.
I also play the self- talk musical slide that reminds students if they don't get it right to tell them selves – I don't have it yet!  I introduce a chunk of vocabulary, practice comprehension with gestures and then show slides with visuals.  Soon French 1 students use "lo acerté spontaneously in many situations" and even "no lo acerté – todavía."
MBMF_18_2_Got It from ellen shrager on Vimeo.
8.    Play the video about finding a random partner of the week or if we already did it play the musical slide to find this week's partner.
Soon students can say Ça, c'est qui?
MBMF_13 Camarade from ellen shrager on Vimeo.
9. Practice with partner(s) usually some kind of spontaneous speech activity if they already have a partner than use this one.
MBMF_12 Par paires from ellen shrager on Vimeo.
10. Slide leading into next activity – could be a listening activity or a reading activity or Simon says. there are videos that show the students how to play guessing games. I have over 60 in Spanish and have been making the French versions as requested.  If you want a specific one, contact me and I can probably have our French singer create it.  It would still only cost you the usual prices of $5.00  If you want a list of the Spanish ones, here they are: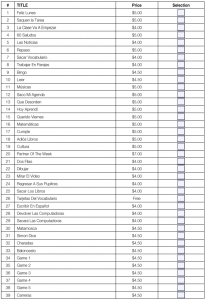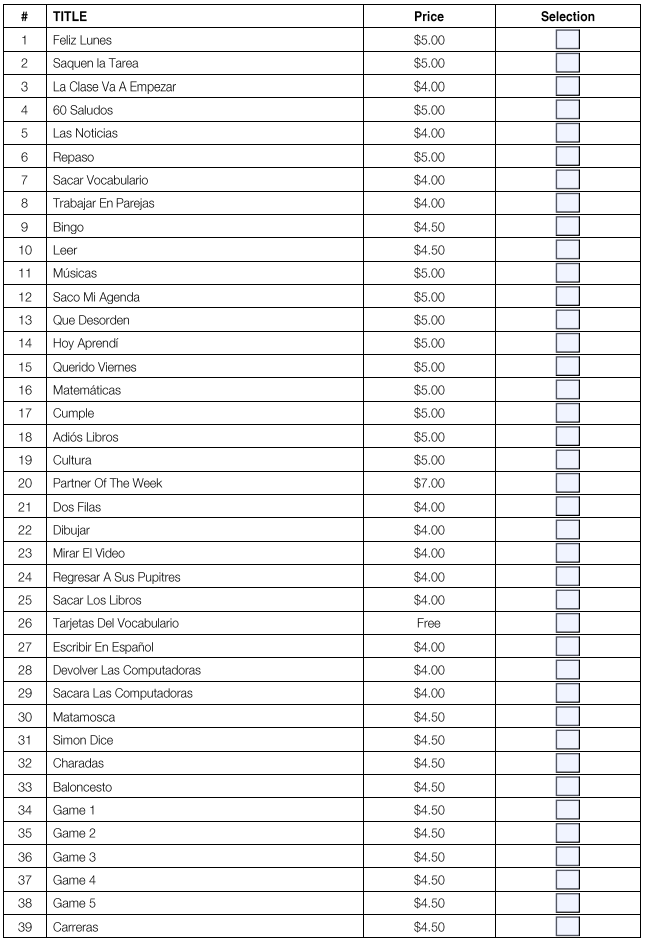 11 Tidy up the room
MBMF_19 Désordre from ellen shrager on Vimeo.
12.Take out the Agenda video and students write down the homework.  My students can say any line from this song at appropriate times.
MBMF_20 Mon Agenda from ellen shrager on Vimeo.
13. Students tell what they have learned after hearing/singing this song.
MBMF_21 Je Appris from ellen shrager on Vimeo.
All net proceeds help three Venezuelan families.