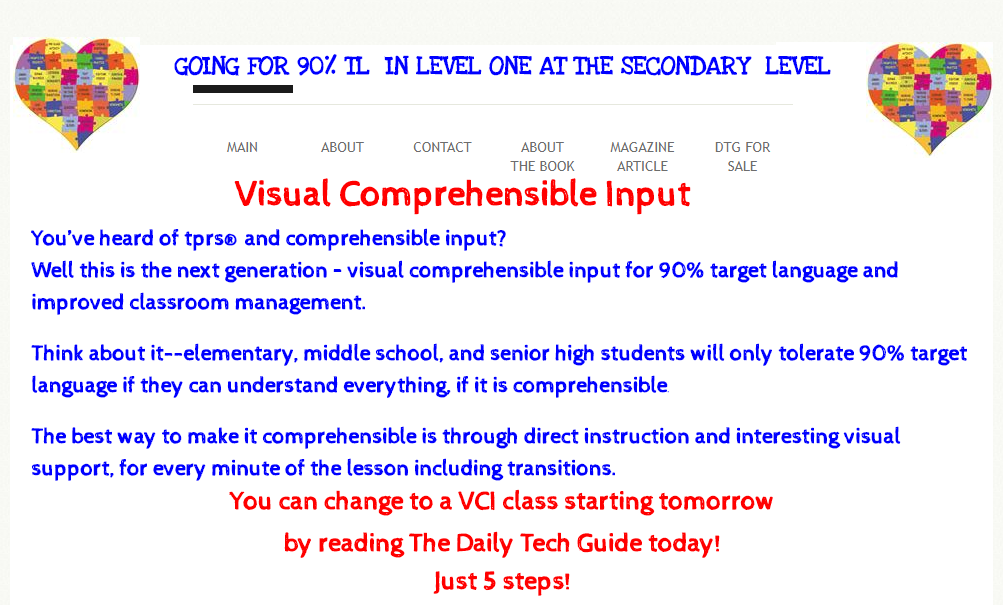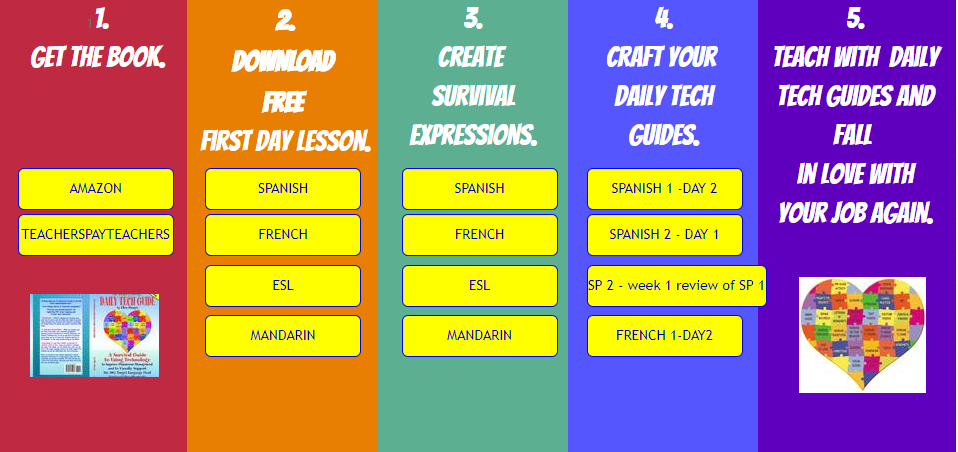 What teachers say about the book:       World Language Daily Tech Guide
"Like Wong's First Days of School, but made uniquely with the Modern Language Teacher in mind!"
Todd Bouchard, IB Language Teacher, American School of the Hague
"I had never realized how practical a Presentation Remote would be. Ellen gives very thorough suggestions as to how to use a . . . Promethean board, Smart board, and PowerPoint slides. She is truly a practicalitioner (= practical practitioner)."
Claudette Moran, Spanish Teacher, Newmarket SD, Newmarket, NH
"All teachers have discipline issues―this book delivers a way to deal with them appropriately using technology and simultaneously foster-ing a high degree of TL use in the classroom."
Jean LeLoup, Ph.D. Professor, U.S. Air Force Academy
Professor Emeritus SUNY, Co-owner of FLTEACH
"A simple, practical guide . . . to get our students talking in the target language from day one and to keep them talking in it all year long!"
Jessie Delany, Spanish Teacher, Warrior Run SD, Turbotville, PA
"Pure genius . . . the missing link of how to teach Real Kids (the true, broad spectrum of kids, not just the elite) in the Target Language."
Carol Ross Stacy, Spanish Teacher, Newman Smith High, Carrollton, TX
"BUY THIS BOOK and use it over the summer to get ready for a better school year than you've ever had before!"
Deb Blaz, Author & World Language Chair, Angola High School, IN
"A wise, well thought-out and sensible tool to help us keep our students engaged, involved and productive in their second language."
Terri Marlow, WL Department Chair, Parkersburg HS, Parkersburg, WV
"As I begin my 38th year teaching, Ellen's ideas make so much sense to me on using technology as a real teaching tool. Thank you."
Karen Query, French Teacher , Clark Middle School, Vincennes, IN
"INCREDIBLE! Your book is absolutely revolutionary! It completely transformed how I teach and pace my class—thank you!"
Roya Petersen, French Teacher, Orange Lutheran HS, Orange, CA
". . . resonates with practical, effective, classroom-tested and student-centered solutions to challenges faced by world language teachers. . . . Ellen's honesty and humor encourage and empower readers to increase their use of target language with . . . all levels and abilities.
Bill Heller, Methods Instructor, SUNY Geneseo, NY
"Using your . . . tech guides . . . has REVOLUTIONIZED my classes. . . . Students are enjoying me speaking in the target language and . . . if I stop . . . they ask me why I didn't keep going."
Nissa Quill, French & Spanish Teacher, Walkersville Middle School, MD
"I love this book! It is a common-sense guide to understanding and helping students learn. It is invaluable for the coming years!"
Linda Twedt, French Teacher, South Fayette MS, McDonald, PA
"The perfect solution to every teacher's classroom management problems. Her step-by-step approach to lesson planning is by far the most innovative and logical approach to keeping students engaged 00% . . . and speaking in the target language at least 90%. . . It . . . should be used at all levels of instruction by teachers of all languages."
Teresa Reber Bell, Ph. D German Professor, Brigham Young University, Provo, UT,
ACTFL on-line Methods Instructor
"We've all had that class. . . . Mrs. Shrager has thrown us a lifeline."
LaVonne Davis-Schenck, French & Spanish Teacher, Cumberland, RI
"We lost our electricity but I kept reading by flashlight to find out how she uses her daily presentations to facilitate smooth transitions throughout the class."
M. L. Quinn, Spanish Teacher, Mayfield Woods MS, Elkridge, MD
"Even the squirrely students will comprehend more and participate more in class."
Sue Alice Shay, Spanish Teacher, Rice Lake MS, Rice Lake, WI .
(Visited 84 times, 1 visits today)