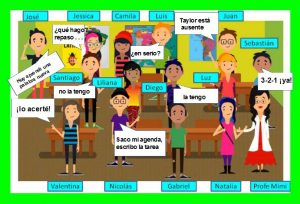 A teacher was given some classroom funds to support Spanish conversation among students and asked for our favorites.
Give direct instruction of student to student interaction – most teach instructor-to-student and student-to-instructor.  You can teach this to jingles, put it on the walls for reneforcement, and make a two sided reference sheet for them to keep in a page protector and use in class.  You can choose from here. 
Most students switch to English during transitions – unless you use native-singer professional transition videos.  The words just fall out of their mouths.  I have several blogs about this topic.
All net proceeds from TpT go to three Venezuelan families.
Contact me at minutebyminutespanish@gmail.com if you have any further questions.