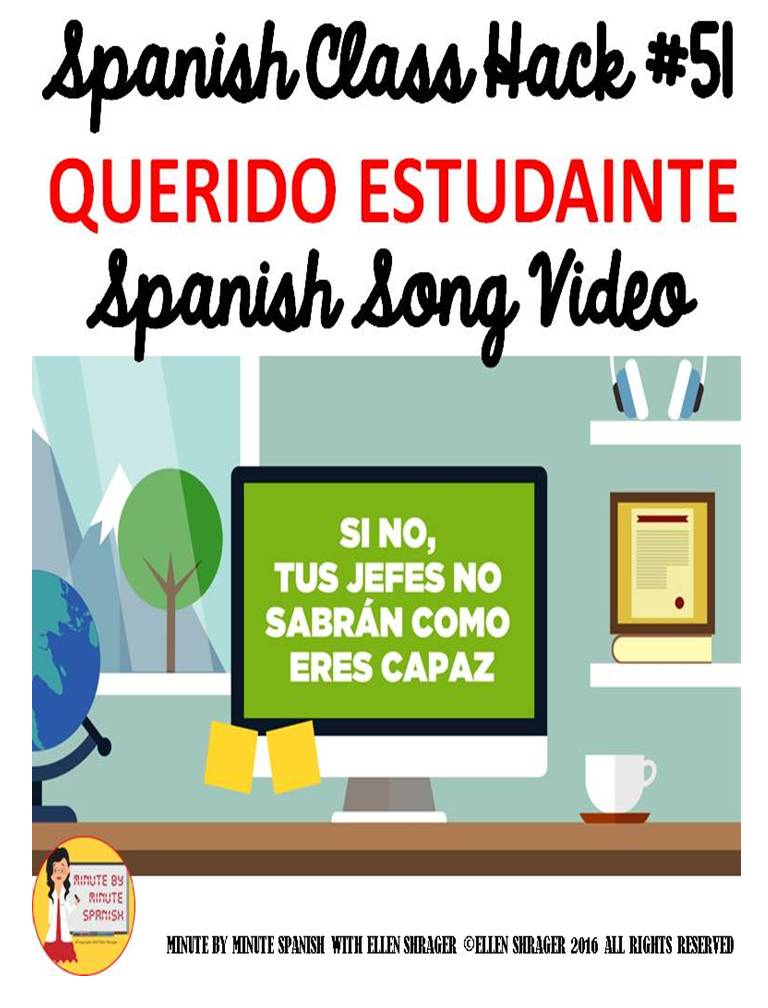 Yep, the classroom honeymoon is definitely over as we wind up our winter!
As some students become comfortable, their manners relax and they forget to use the appropriate register with their teachers.
Marlo  brought it up on a FB page for Spanish teachers today just as I am posting my new Spanish video for social skills.
What timing!
While most of my Spanish videos are for transitions, some are for using as direct instruction in social skills; they address my pet peeves!
f
Pet Peeve #1 Students need to learn to work graciously with random partners.
Pet Peeve #2 Students need to actively look out for new students to our class and building.
Pet Peeve #3 Students need to use the appropriate register with teachers in e-mail.
What triggered Pet Peeve #3? Twice this year I have received e-mails via our grading program.
Unfortunately, the program does not forward the sender's name. This results in students sending me an e-mail as if  it  were a text message to a peer.
• No salutation
• No signature
• No punctuation
• No context – "you gave me an F on the homework but I was absent." (The grading program does this whenever a grade is missing.) "You marked me absent but I was in a team activity."
My students are in seventh and eighth grade and are generally well-behaved and polite.
But unlike in the past, they now come with experience of texting/instagramming friends and haven't been taught how to use technology formally with an adult.
Parents weren't raised with this level of technology so they don't realize they need  to teach the do's and dont's.
When I first started teaching, most formal communication was about letters of recommendation for my highschoolers and this wasn't an issue. 

But younger students are writing to teachers and  absent basic manners, the e-mails sound harsh.
Because e-mail is as close to the students as their phones, now more than ever, students are contacting the teacher about minor issues such as missing homework sheets and assignments rather than checking the grading program or with other students.  I see some students not needing to build up a support system of friends like they used to when I first started teaching because they are quick to contact their teacher.  Sometimes they have large circles of Insta-gram friends, but it doesn't occur to them to consult with them about these minor issues.
It is important to develop this skill of appropriately contacting teachers.
So I wrote a song and made a video to show the students how to e-mail me as practice for communicating with their future employers. It includes opening and ending expressions and the reminder to use please and thank you.
I've noticed that music creates a super-path to long term memory and I hope the message in this video becomes part of students' life-long tool-kit for addressing adults with the appropriate register.
Querido Estudiante with Female Teacher
Querido Estudiante with Male Teacher