How do I keep the other students engaged while individually assessing their oral proficiency or during an individual  speaking performance-based assessment?
How do I combat their groan of "worksheets" when I announce I will be out and they will be having a substitute who may or may not speak Spanish?
How do I get my Level One students excited about learning about other countries?
How can my Level One students be subtly exposed to the nuances of grammar in an exciting way?
Between July and October, I must have spent over forty hours thinking about a captivating answer to these questions.
My answer is to use Pam Kaatz's song of the countries and capitals of South America and focusing on the eight Spanish-Speaking countries in South America in the order of her song. Pam has kindly allowed me to include her song, and for more information about her clever ideas,  go to Pam Kaatz Color Connection.  Students love this song, and frequently former students from twenty years ago can still sing this song for me!
For eight days the students fill in the graphic organizer as they watch a video on how to make the breakfast food associated with the country and watch a brief travel video on the country.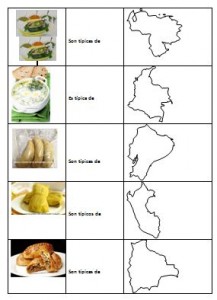 They are required to fill in what they would like to visit/do in each country on the graphic organizer. For some reason, my seventh and eighth graders are fascinated with the cooking videos – I think they have so many activities after school they really don't watch anyone prepare food, or maybe takeout is more common than I realized. They would actually come to class early trying to pry information out of me on what they would see that day.
They also really enjoy the travel videos and now talk about visiting Ecuador, Chile and Paraguay – not just the typical "My family is going to a resort in Mexico or Costa Rica.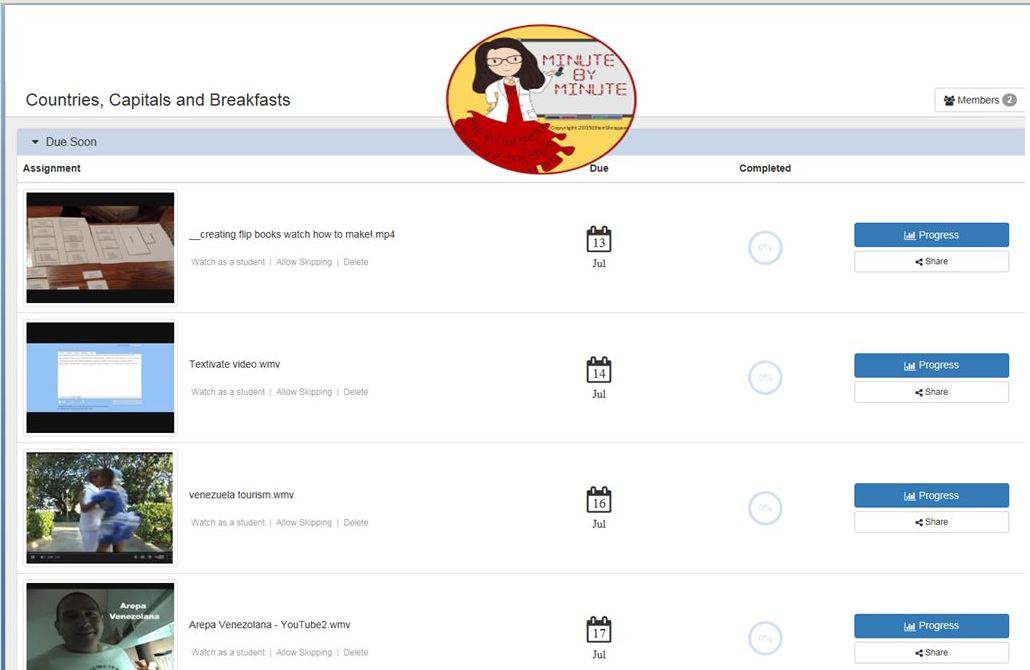 After the video, we go through the day's PowerPoint and they practice with their partner on the summary page for that item.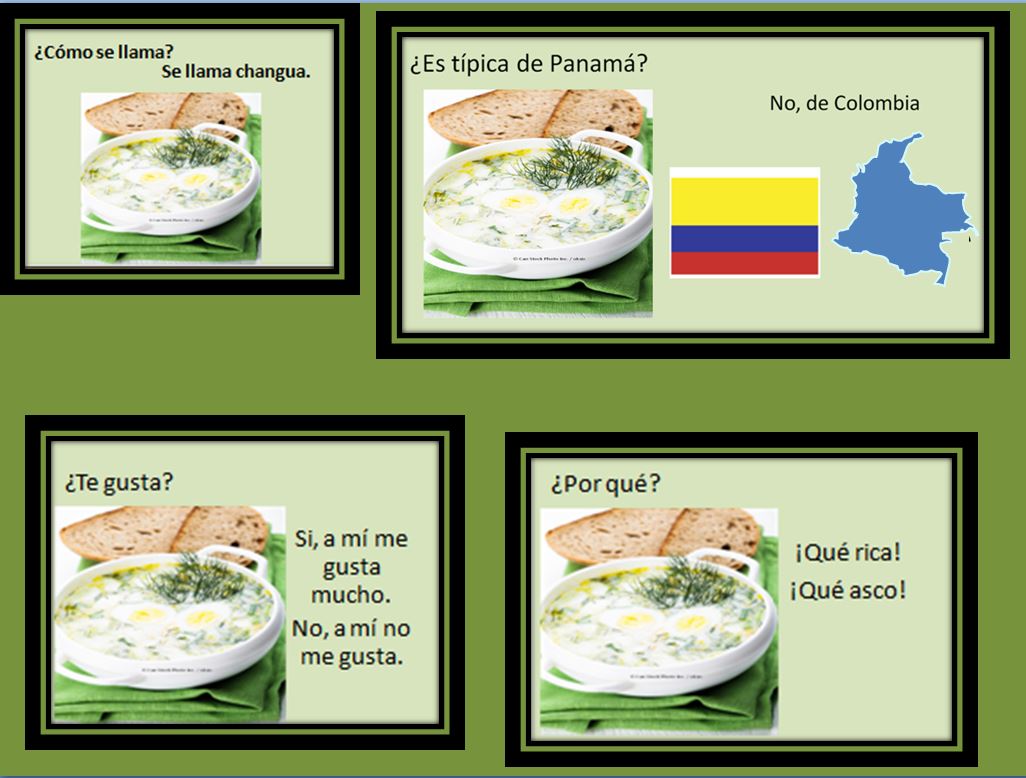 At this point, I had to be out with a substitute and I left instructions for the students to start coloring the flag matchbooks and if there was time, to color the countries on the matchbooks with the colors on the map.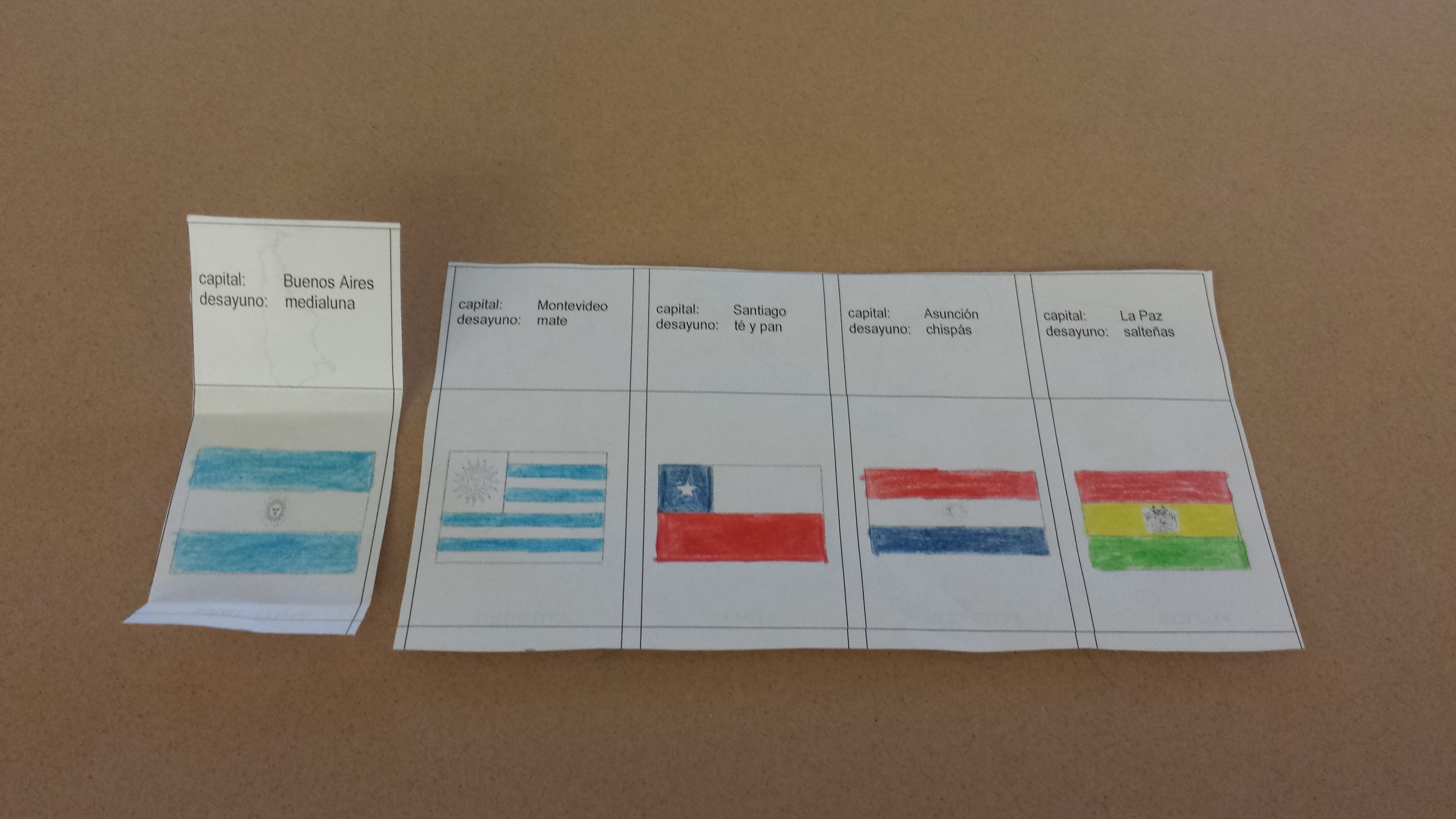 If I had been out for all three days, they could have gone on with assembling and then practicing the lapbook.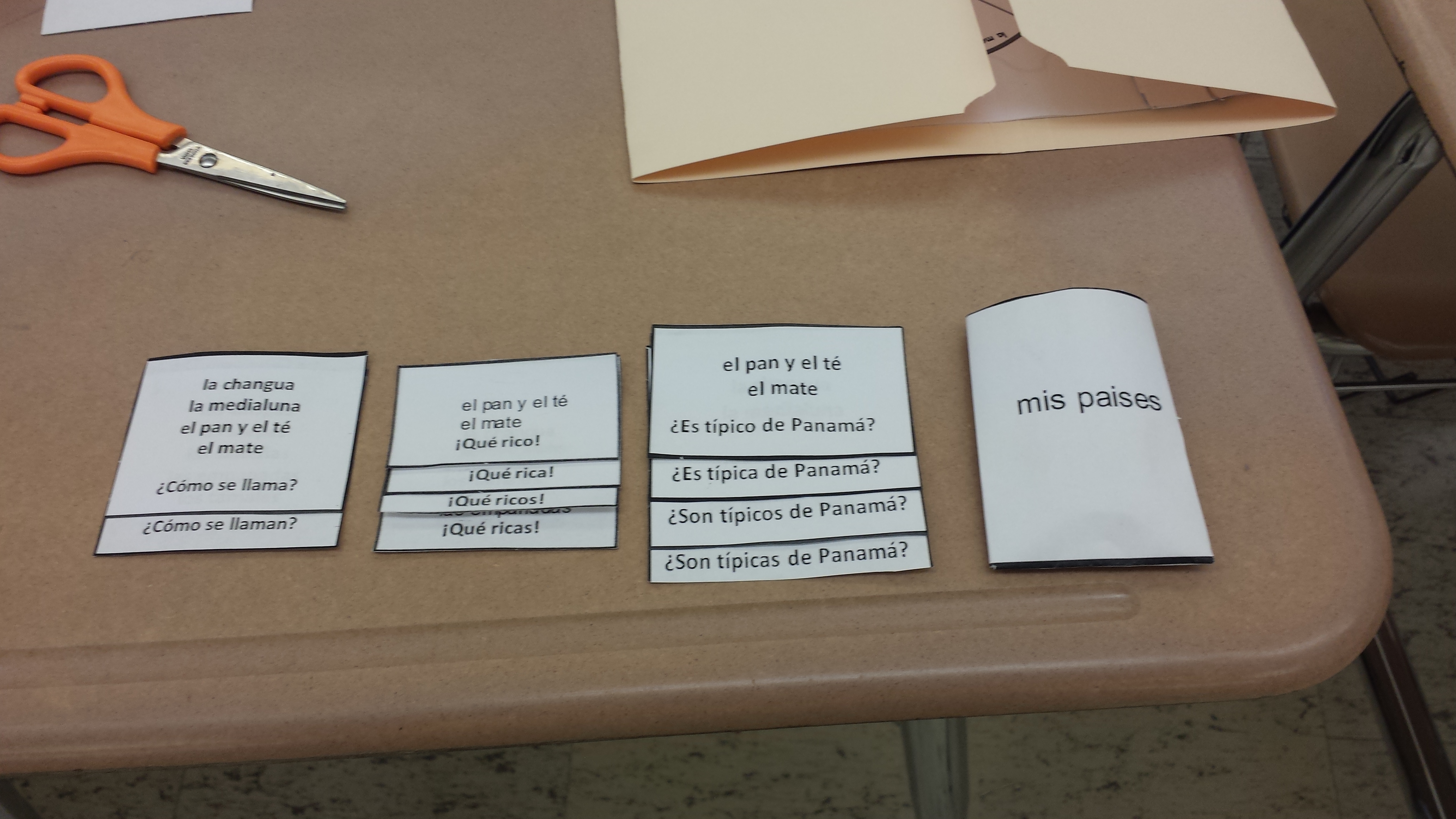 Students also had the chance to practice the dialogues using Textivate.
I returned and started their individual speaking assessment. If they came up the first day they could choose five of the cards, then put them face down and choose three that I would then ask them the questions we had practiced on the PowerPoint.  If they didn't come up the first day, then they had to choose three from all nine that were face-down.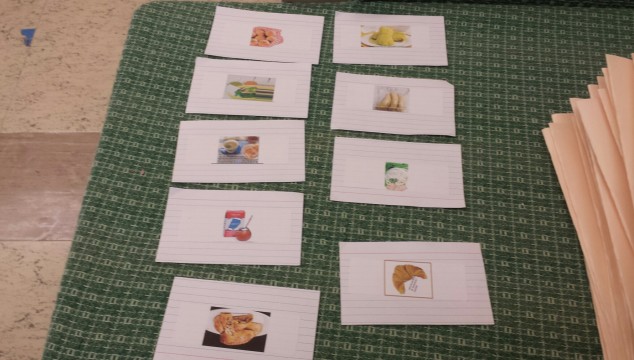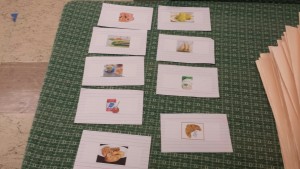 The interest in the actual game was short-lived, as are most games!  But the students' delight in the process of creating this first piece of their portfolio surprised me and warmed my heart.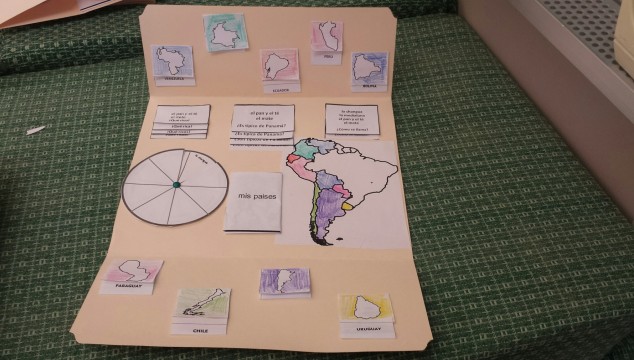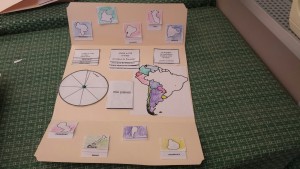 They did so well that I also gave them a brief reading and listening activity on this same information and they did really well.
My students have a major individual speaking assessment each quarter and I intend to create a lapbook to engage the rest of the students as individuals are assessed at my desk.
I hope this stimulates some ideas for your own students!  If you want to take a short cut and use mine, here is the link.
All net proceeds from the TpT store  help three Venezuelan families – meet them in this video as they open three boxes I sent to them.
If you want to read more about class structure and transition videos, read my blog here.
May 2017 Update:
A teacher asked how to use this for a full week with classes that meet 50  minutes a day.  I converted the first time table with 8 days of pre-classes and three days with a substitute  to one full week below.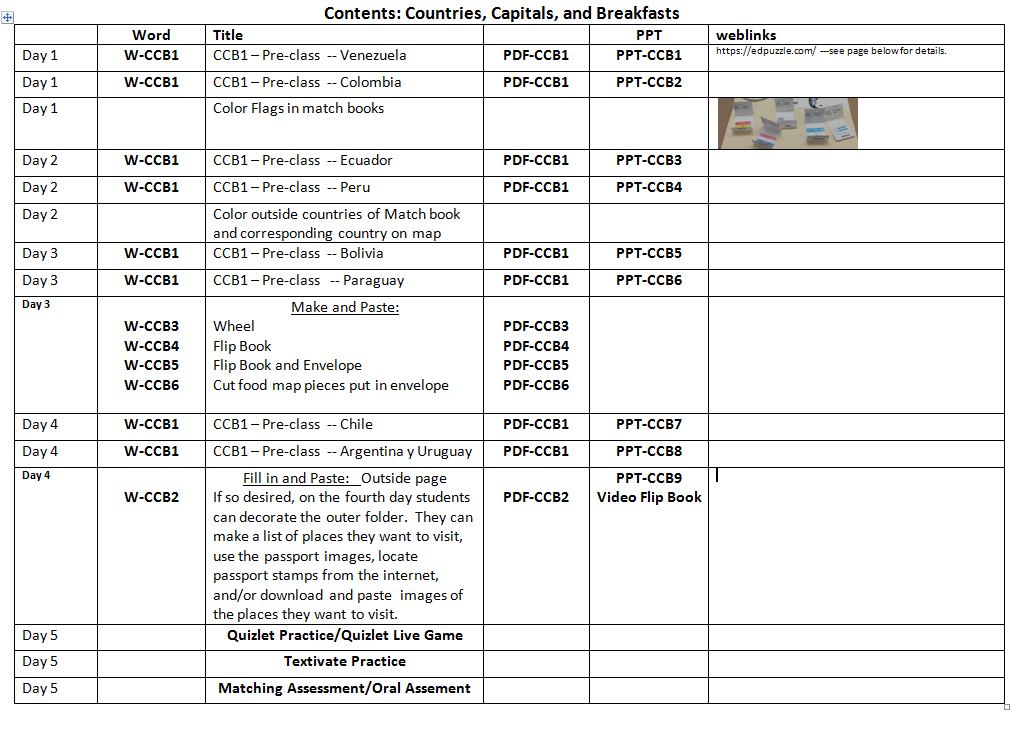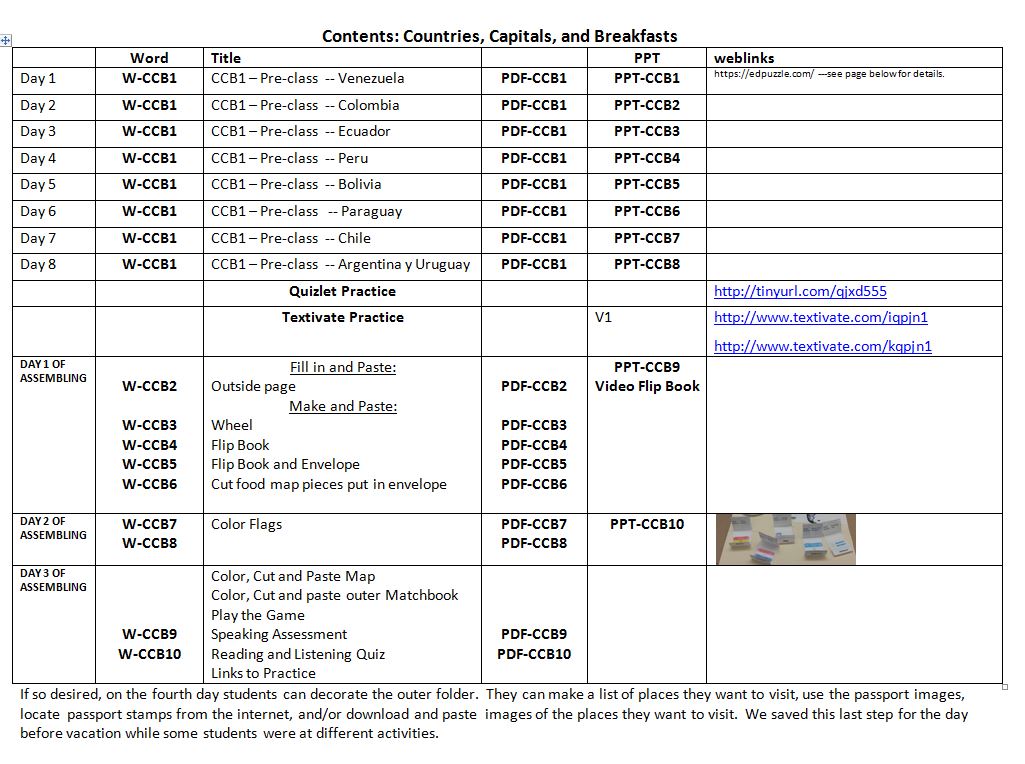 Available on TpT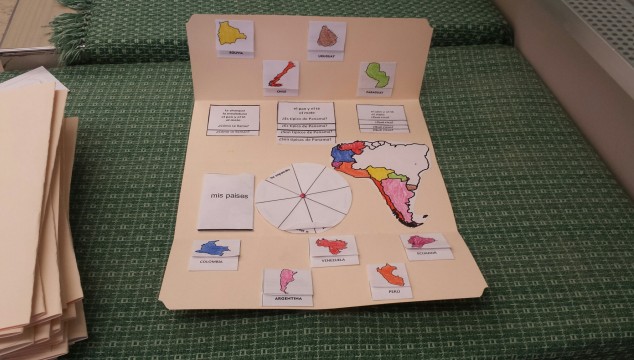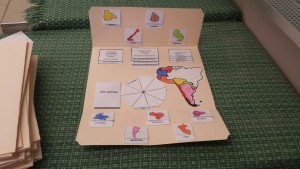 (Visited 817 times, 1 visits today)