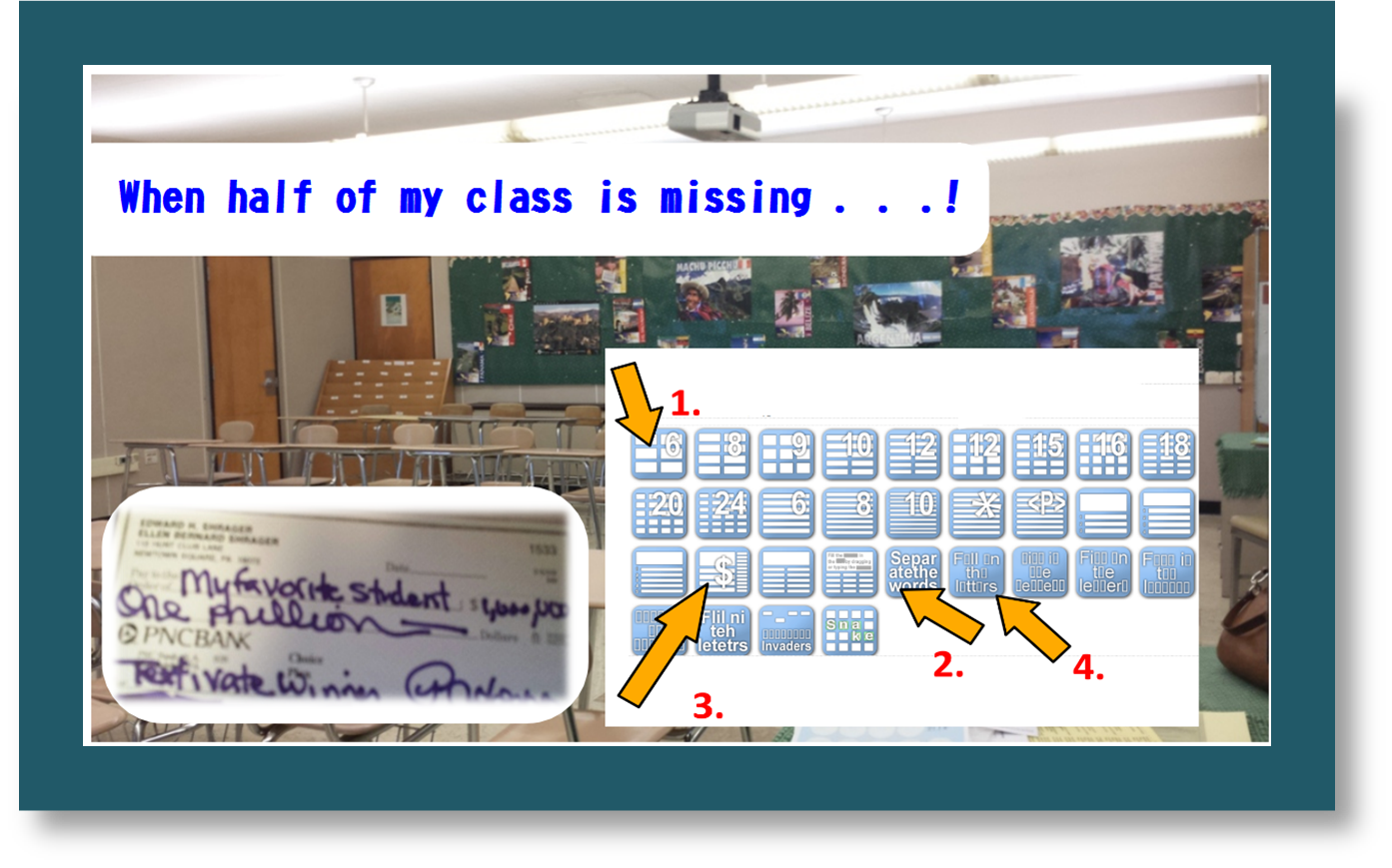 Have you ever had a great lesson planned, only to discover that half of your students are missing for an assembly, or picture taking, or a team meeting, or you lose a whole class to a fire drill or some other safety drill? If you are like me and teach different sections of the same class, if two periods miss my class, I am reluctant to let the third period move forward as I want them in sync for assessments.
Today, this happened to me, on day 8 of instruction in the school year. What to do? Luckily, I had access to a chrome cart and my students in attendance practiced reading and writing Spanish greetings using textivate. Since it was our first time, I directed them to complete the first four and then explore.
They reported back to me that they loved using the $ activity – I joked that I was sorry, but I had left my checkbook at home – and the snake and space invaders.
Here are the two activities I used today:
First Textivate Assignment Day 7 of the School Year
Second Textivate Assignment Day 7 of the School Year
If you have access to computers, or you are teaching in a 1:1 school, make a reading and writing assignment for each vocabulary list, and textivate it.
Ten minutes of prep time arms you with a great lesson when half the class is there or when you want to keep all of the classes together!
It turns around the atmosphere from "oh the others are so lucky to have an activity" to absolute silence as they concentrate on getting it right!
Textivate motivates even students with only 7 days of class instruction to want to read and write in Spanish like no other product I have seen. For more info, go to my article on why I love textivate and to the textivate site.
Why I Love Textivate PowerPoint
If you have a specific text  you want me to textivate in my account for you so that you can try it out, e-mail me at minutebyminutespanish@g-mail.com and I'll add the link here for others to try.  It can be in English, French, or Spanish.
Subscribe to Textivate – You'll Be Glad You Did!
Whether you have a partial class or a full class, it captivates students.  I'm booking the computers for the day after Back-to-School night as it will help the students to read and write and minimize straining my voice after a long previous night.