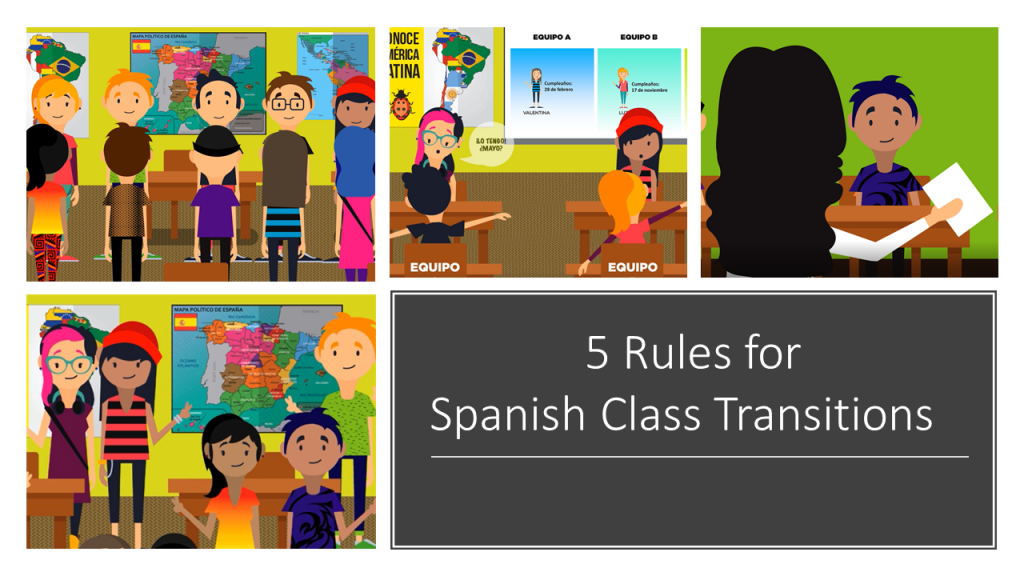 A student studying to be a Spanish teacher asked, "What frase in the target language should I use to get their attention when transitioning to an new activity?"
The shallow answer is "¿listos o no listos?" My students answer in unison "listos" and occassionaly in a playful mood they will tell me "no listos" and I will tell them "no es la respuesta correcta" and we try again and move on.
Transitions can make or break classroom management and a one-size-fits-all approach is a common pitfall for new teachers. As a reflective teacher in her 30th year in the secondary classroom, I have 5 rules for world language class transitions.
1. Do not try to get the class to be quiet, rather you want them to be attentive. Students respond better to giving you a reply than to hushing. Create responses for them and they will all join in.
2. Do not get their attention until you are 110% prepared with the next activity. Getting their attention and then fumbling for the location of the handouts or the track on the CD or link to the video is deadly to classroom management. You will loose them and their attentiveness for future transitions, as they figure you don't really mean it . . . yet.
3. Support your transitions with a visual, assuming you can project on to a screen or wall. I make a daily tech guide with a slide for each activity and each transition so that the students look up and know what to do even if they can't quite hear you above all the paired practice speaking going on around them. Make a list of your weekly activities, make a slide for each one and a transition for each one.  Use a remote presentation device or wireless mouse so you can stand near certain students while you transition through the class.  Click here for videos of my tech-guided classes.
4. If you are using music or a video, embed them in your daily tech guide. This extra prep work will pay large dividends as you minimize down time.
5. Use musical transition videos. Over 50 of them were made by some fairly desperate Venezuelans and all proceeds go to them. They have created the best atmosphere for my level one classes, students delighting in the musical breaks and singing along as they do the transition. My transitions are now seamless.
2023 Update: Check just prep during your prep here  – we now have over 100 videos. 
Get a free version here.
Scroll down this previous post to get a feel for them – there are examples in six languages. They are a game changer!

1.  When I am ready to start, I play the class count down video – students know to be seated and quiet as they count down the 3 -2 – 1 ya!  French version below!
Students use this expression spontaneously before beginning anything.
2  I greet them, ask how they are, and tell them the objective of the day and the class activities of the day – all on 3 slides.   I play the "Take out the Homework" video and show the answers on the board while I quickly check for completion.  Since day two of the school year when I first played it, my students spontaneously tell me 'la tengo' or 'no la tengo' and if someone doesn't have it everyone else asks, "¿en serio?"
3. Check for questions and play the musical slide to take attendance – we get nasty emails if we miss attendance for any class!  My students tell me" X está ausente" or "no está ausente, en el baño."
4.  Play "The Daily Review"song and complete five minutes of review.  My Spanish 1 students can fluently say "cuando necesito gramática perfecta" and "¿Qué hago – repaso, repaso, repaso"
5.   Play "Take Out the Vocab List video and they can all mimic "Favor de sacar la lista del vocabulario."
I also play the self- talk musical slide that reminds students if they don't get it right to tell them selves – I don't have it yet!  I introduce a chunk of vocabulary, practice comprehension with gestures and then show slides with visuals.  My Spanish 1 students use "lo acerté spontaneously in many situations" and even "no lo acerté – todavía."
6.    Play the video about finding a random partner of the week or if we already did it play the musical slide to find this week's partner.
My students can say ¿Quién sera? even though they won't be taught this tense for three more years.
7. Practice with partner(s) usually some kind of spontaneous speech activity – there are videos that show the students how to play guessing games. If we have the computers then they will watch "The Take Out the Computer"  video, "Practice QuizletLive" video, students practice on their own, play the quizlet live video and finally I play the  "Put Away the Computers" video and rearrange the chairs slide.  My students quickly learn the games that have songs to teach the vocabulary and create spontaneous dialogues – month two of Spanish One!  They can all do "más alto, más bajo" and many others.
8. Slide leading into next activity – could be a listening activity or a reading activity or Simon says.  My students all know "vamos a jugar" and can follow it with many games.
9. Tidy up the room.
_13 Que desorden Pls no posting – trimmed from ellen shrager on Vimeo.
10.Take out the Agenda video and students write down the homework.  My students can say any line from this song at appropriate times.
"ay no me gusta, pero es importante"  "Saco mi agenda, escribo la tarea."
_20 Saco Mi Agenda Pls no posting – trimmed from ellen shrager on Vimeo.
11. Closure – students sing and then tell me something new they learned.  My students can spontaneously say "Hoy, hoy aprendi " and complete the thought.
Video 69 Señora – trimmed from ellen shrager on Vimeo.
My public school seventh, eighth, and ninth graders in Spanish One produce spontaneous speech even if they don't want to – they can't help themselves because music enters their brains and remains like nothing else that I have tried in these past 30 years.  You can make your own songs or use mine.
You can even use  my videos,  created by native speakers, and offered here  on TeacherspayTeachers. Or click here for the starter kit!  They help support several Venezuelan families. We are making them in French, Mandarin, German, and Latin, and English.  What I love about TeacherspayTeachers is that it helps new teachers to quickly climb the learning curve by selecting tried and true activities from veteran teachers still in the classroom, like me!  If you need something new to get your students spontaneously  speaking in the target language – this is it!
Click here for Italian videos.